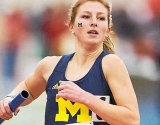 June 30, 2016
"That's going to be really cool being on the starting line with my idols, just unreal to me."
By Marvin Goodwin, The Oakland Press
Nearly 30 years ago, P.J. Osika and Andrea Bowman were competitors trying to make the US Olympic team at the 1988 Olympic Track and Field Trials in Indianapolis.
...
Read More
comments