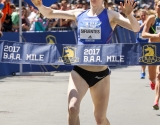 October 16, 2018
I'm not hanging up my spikes because I've reached all my goals and am finally fulfilled, but because I want to stop chasing those goals and turn my focus to everything I was given.
By Nicole Sifuentes, two-time Canadian Olympian
I wonder sometimes how running became my job. As a child I...
Read More
comments