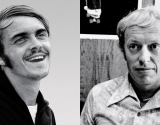 May 26, 2016
I told myself there was much to be learned from such a display of passion, whether you were running a Mile or a company.
By Phil Knight, for Runner's World
Excerpted from Shoe Dog: A Memoir by the Creator of Nike, by Phil Knight. Copyright © 2016 by Phil Knight. Reprinted by permission of...
Read More
comments