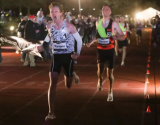 April 11, 2022
"Every single person tonight at the track just carried me through that whole race. There was no denying me of making history today, heart pulled me through the race."
By William Bretzger, Delaware News Journal
Halfway through the race billed as an attempt to run the first sub-4 minute Mile on...
Read More
comments