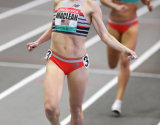 February 16, 2021
"Running with this group, she's taken it up a level. She knows she belongs. She knows with a lap to go she's going to be there."
By Sarah Lorge Butler, Runner's World
Ask Heather MacLean, who is an 800 meter / 1500 meter / Mile specialist, which event is her favorite, and she'll tell you it's...
Read More
comments