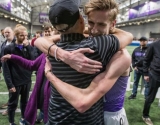 January 27, 2019
"Watching Logan break four was incredible. I was with a group of teammates in Portland watching on the TV, and once he finished we were waiting for his official time, and once we saw it was sub-4 we all went crazy."
By Ana Clyde, The Beacon
Over winter break, track & field redshirt senior...
Read More
comments