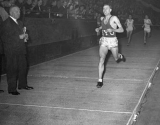 July 01, 1942
Leslie's time drew a thunderous cheer. It was 4:07.4, tying the world's record time... He was king of the Milers at 20!
By Roger Birtwell, Esquire
Running is a country boy's game. Ask any track coach what type of material he prefers. "Give me kids from the country," he'll say. He wants...
Read More
comments