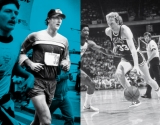 April 15, 2015
My best time in the Mile was 5:08, going into my senior year at Indiana State. That was once in a lifetime. Usually I ran it in 5:30, 5:35.
By Dan Simmons, Runner's World
At age 58, the Boston Celtics legend is now president of the Indiana Pacers and still a runner at heart. Here, he reveals...
Read More
comments