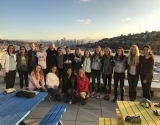 December 10, 2017
Weekend camp for high school girls provides running tips & tools, life lessons and more!
By Katie Mackey, Brooks Beasts Track Club
Imagine that you have a toolbox, and you need to hang a picture on the wall. You'd need to grab a hammer, some nails and maybe a leveler, but when you look into...
Read More
comments