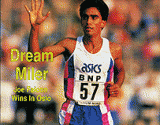 August 13, 2015
"I remember as a kid watching the Dream Mile on television and, to me, outside of the Olympic Games and World Championships, the Dream Mile was the Super Bowl of all Mile races."
By Jeff Benjamin, RunBlogRun.com
"Each day is a different opportunity."
So said Bentonville, Arkansas Police...
Read More
comments