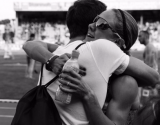 August 18, 2015
"You wouldn't necessarily put a Lauren Johnson into the top echelon of the American middle distance crew," Rowland said. "She took her opportunity…. that's the beauty of our sport. That's what make us tick and keeps us going."
By Jonathan Gault, LetsRun.com
With 100 meters to go in the...
Read More
comments