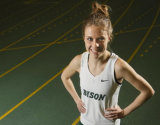 February 19, 2016
"The thing about Erin is even with an awe factor she likes to beat people, too. She'll look at Shannon Rowbury and think she doesn't look that much faster than me."
By Jeff Kolpack, Inforum
For the track and field junkie, this is about as cool of an invitation as a Mile runner can get. When...
Read More
comments