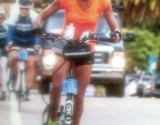 June 19, 2015
For the past three years, Slaney has competed in the World Championships of Elliptical Cycling at Palomar Mountain near San Diego, improving her time each year. She'll be entered again in this year's competition on Oct. 17.
By Kerry Eggers, Portland Tribune
The world still moves quickly for...
Read More
comments