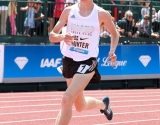 June 25, 2016
Back to full-tilt training, the #8 sub-4 U.S. HSer and Oregon bound athlete is feeling great and has gotten green lights from his doctors.
By Jeff Hollobaugh for Track & Field News
Where is Drew Hunter? The drumbeat is starting to sound on the Internet about the nation's top prep distance...
Read More
comments