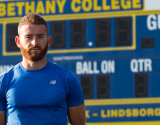 September 14, 2020
"When I'm running backwards, it almost feels like I'm flying."
By Katie Dupere, Men's Health
Run a Mile in this guy's shoes and you'll probably fall on your ass. That's because Aaron Yoder is famous for his backwards running style—and recently broke the official Guinness World Record for...
Read More
comments