Your Favorite Track Athlete, Now in Vinyl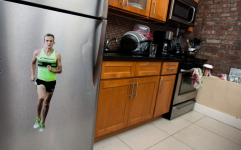 October 25, 2015
Wallstrides is making giant decals of some of your favorite Milers
By John Gugala, Outside Online
Over the summer, professional runners Erik van Ingen (a 3:56 Miler), Kyle Merber (a 3:54 Miler), and Aric Van Halen (yes, the son of that Van Halen) were hanging out at a cross country camp in Upstate New York when they came up with the idea of making prints of professional runners for people to buy and put on their walls.
All accomplished runners and former All-Americans at Division I universities, the three athletes have since transitioned to professional track. Merber has a substantial following on Twitter, as do professional runners Robby Andrews, Riley Masters and Kara Goucher, all of whom you can get in miniature.
But the trio discussed the matter and decided prints were unoriginal. Which is how Wallstrides was born. For $39 you can now get a 12-inch vinyl decal of your favorite distance runner (or if you want to go bigger, a four-foot tall version costs $69), through the runner's Kickstarter, launched on Monday.
Continue reading at: outsideonline.com