World's Best Milers Flocking to Pre Classic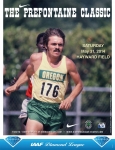 April 28, 2014
Fastest field in Bowerman Mile history to compete at the 40th Prefontaine Classic
EUGENE, Oregon – (April, 28, 2014) - Asbel Kiprop is only 24 and already among the world's greatest Milers of all time. He leads the best field ever to run the signature event at the Prefontaine Classic.
The landmark 40th Pre Classic will be held May 30-31 at historic Hayward Field, and the final race will once again be the Bowerman Mile. Named after legendary coach Bill Bowerman, the event is annually the best in the world.
Asbel Kiprop was 19 when he won Olympic 1500 gold for Kenya at Beijing, the youngest ever in the event. A year later he ran his first of five straight sub-3:50 miles at the Pre Classic – three of those were victories, the most ever in the event. He has already been ranked No. 1 in the world five times by Track & Field News – a feat exceeded only by Mile world record holders Noureddine Morceli (7) and Hicham El Guerrouj (7).
A stunning collection of talent includes one of the few to have ever beaten Kiprop in the mile, Silas Kiplagat. Kiplagat is the defending Bowerman Mile champ, edging Kiprop last year by 0.05 seconds in the closest finish in Pre Classic Mile history. Kiplagat, 24 and also from Kenya, ranked No. 1 in the world in 2012 by T&FN – the only time since 2008 that Kiprop did not earn that honor.
Ayanleh Souleiman, just 21, brings a rare brilliance from Djibouti. He won gold at the recent World Indoor Championships in the 1500 and was ranked No. 3 in the world last year by T&FN. He also won a bronze medal in the 800 meters at last year's World Championships in Moscow.
More major medal winners in the loaded field include Aman Wote and Mekonnen Gebremedhin of Ethiopia and Johan Cronje of South Africa. Wote and Gebremedhin both clocked rare sub-3:50 bests at previous Pre Classics. Wote earned the silver medal at the World Indoor Championships 1500, and ran a world-leading 3:53.39 Mile at the Drake Relays last Saturday. Gebremedhin garnered bronze at the 2012 World Indoor, and the unheralded Cronje earned surprise bronze in last year's World Championships 1500 and will make his U.S. debut at Hayward Field.
The field also features a pair of prominent Americans who are no strangers to Hayward Field or famous Mile races. Matthew Centrowitz and Will Leer are the last two winners of the world's most prestigious indoor competition, the Wanamaker Mile at the Millrose Games. Centrowitz, who won an NCAA 1500 crown representing Oregon, also owns medals from the last two World Championships. Leer is a Minnesota native who blazed trails at Division III Pomona College and equaled his personal best at last year's International Mile at the Pre Classic.
Additional racers ranked among the top 10 by T&FN also include Kenya's Bethwel Birgen and Collins Cheboi as well as Morocco's Mohamed Moustaoui. But Mile fans will also keep an eye on 23-year-olds Henrik Ingebrigtsen of Norway and James Magut of Kenya – Ingebrigtsen is the reigning European champion and Magut won the last two editions of the Pre Classic International Mile and this year has been elevated to the Bowerman Mile.
Bowerman Mile
Athlete & Personal Best
Asbel Kiprop (Kenya) - 3:48.50
Silas Kiplagat (Kenya) - 3:49.39
Mekonnen Gebremedhin - 3:49.70
Aman Wote (Ethiopia) - 3:49.88
Ayanleh Soulieman (Djibouti) - 3:50.07
Mohamed Moustaoui (Morocco) - 3:50.08
Bethwel Birgen (Kenya) - 3:50.42
James Magut (Kenya) - 3:50.68
Matthew Centrowitz (USA) - 3:51.34
Collins Cheboi (Kenya) - 3:51.44
Will Leer (USA) - 3:52.47
Henrik Ingebrigtsen (Norway) - 3:54.28
Johan Cronje (South Africa) - 3:54.84
For a listing of all sub-4 minute performers and performances in the 40-year history of the Prefontaine Classic, click HERE.
Fans can follow the event lineups as all announced fields are posted at PreClassic.com. The direct link to current start/entry lists is HERE and will include updates to all announced fields.
Tickets for the 40th annual edition of the Prefontaine Classic, to be held May 30-31 at Hayward Field in Eugene, Ore., are available now from PreClassic.com and from 1-800-WEBFOOT. Sponsored by NIKE continuously since 1984, the Prefontaine Classic will be shown live to an international audience and by NBC Sports from 1:30 till 3:00 p.m. PT on Saturday, May 31.
About The Prefontaine Classic
The Prefontaine Classic is the longest-running outdoor invitational track & field meet in America and is part of the elite IAAF Diamond League of meets held worldwide annually. Last year's Pre Classic was scored highest in the world by All-Athletics.com, the official data partner of the Diamond League.
About Steve Prefontaine
Steve Prefontaine is a legend in the sport of track & field and is the most inspirational distance runner in American history. He set a national high school 2-mile record (8:41.5) while at Marshfield High School in Coos Bay, Oregon, that is still the fastest ever in a National Federation-sanctioned race. While competing for the University of Oregon, he won national cross country championships (3) and outdoor track 3-Mile/5000-meter championships (4), and never lost a collegiate track race at any distance. As a collegiate junior, he made the 1972 U.S. Olympic Team and nearly won an Olympic medal, finishing 4th in the 5K at the 1972 Munich Olympics, at age 22. After finishing college in 1973 and preparing for a return to the Olympics in 1976, he continued to improve, setting many American records. His life ended tragically on May 30, 1975, the result of an auto accident, at age 24. The Pre Classic began that year and has been held every year since.