World class field expected for Sunday's first Michigan Track Classic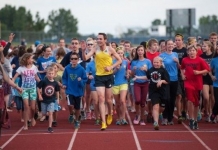 August 08, 2014
Prize purse of $24,000 on the line for The Running Institute Ron Warhurst Mile and women's 800 meters in Saline
By Justin P. Hicks, mlive.com
ANN ARBOR, Mich. – Nick Willis dreams big. He also knows how to finish.
The silver medal-winning Olympian and University of Michigan alumnus organized and will compete in the first Michigan Track Classic on Sunday at Saline High School. He'll be one of 24 Olympic and world-class racers lacing up.
"We felt most people view track meets as something parents have to come to and see their kids run for hours," Willis said. "We wanted quality over quantity. We didn't want people to get bored … This year we've attracted runners from all over the country."
Sunday's USA Track & Field sanctioned event will kick off with the women's 800m at 7:30pm, followed by the men's Mile.
The latter race is The Running Institute Ron Warhurst Mile, named after the former University of Michigan cross-country coach.
"Ron is the greatest name in the sport from this part of Michigan and I thought what better way to recognize that," Willis said.
Continue reading at: www.mlive.com