With Sub-4:20 Performance, 53-Year-Old Breaks Masters Mile World Record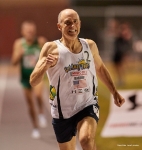 June 04, 2019
At the Music City Distance Carnival, Brad Barton sliced more than five seconds off the previous record set 18 years ago.
By Taylor Dutch, Runner's World
At 53-years-old, Brad Barton now owns three world records, effectively extending his streak of accomplishments as a Masters runner. On Friday night, the middle distance standout from Ogden, Utah, kicked his way past an Irish Olympian to become the new world record holder in the Mile for the men's 50-54 age category.
At the Music City Distance Carnival in Nashville, Tennessee, Barton finished the Masters Mile in 4:19.59 after surging past fellow competitor Shane Healy, 50, with 250 meters to go. Healy, who competed for Ireland at the 1996 Olympic Games, finished second in 4:22.96..
"I just felt really good coming off the last turn and just motored through the end," Barton told FloTrack after the race. "I'm really fortunate to beat an Irish legend. It was a wonderful experience for me tonight."
Barton's performance improved on the previous world record of 4:25.04 set by Nolan Shaheed in 2001. Healy also bettered the previous WR.
Continue reading at: runnersworld.com
Masters Mile outdoor world records HERE.