When not winning races, Craig Engels can light up a room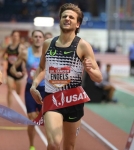 April 05, 2020
"You don't have to 24 / 7 serious to be a U.S. champion. You have don't have to make a choice."
By Ken Goe, The Oregonian / OregonLive
Coach Pete Julian remembers when Craig Engels first breezed into Julian's group of elite distance runners within the Nike Oregon Project in 2017, smile spread wide underneath a mustache, hair from his mullet cut trailing down his neck.
"Such a breath of fresh air," Julian says. "So much joy. Craig is one of those guys, if he's in the room you can't help but smile."
Engels makes no apologies for the hair, for the $4000 RV in which he tools around Oregon, or his sunny personality.
He comes from North Carolina, spent his final three years in college at Ole Miss and at first glance looks more like he belongs in the cast of Duck Dynasty than Portlandia.
He makes no apologies for that either.
"Maybe a lot of little kids or high school runners look up to the fact that I don't care what other people think," Engels says. "The mullet is definitely part of that. I like standing out a little bit and having fun with it. If you look funny, you can't take yourself seriously."
On the track, Engels is seriously good.
Engels' top-end speed and flair caught Julian's eye at the 2016 Olympic Trials, where he placed fourth in the 800 meter final and fifth in the 1500 final while still in college.
Engels took another big career step in the 1500 final at last summer's USA Outdoor Championships by upsetting Rio Olympic gold medalist Matthew Centrowitz.
Centrowitz was a member of the Oregon Project when Engels joined, although he since has left and runs for the Portland-based Bowerman Track Club.
"I've looked up to Centro my whole running career," Engels says. "It was surreal to beat him."
Continue reading at: oregonlive.com