What Makes Pre So Special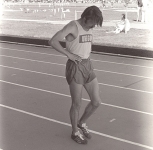 May 21, 2015
For them, Pre ran his workout Mile in 3:58.3 and coughed blood at the end. And then, his lungs gravely wounded, he found a bullhorn and thanked the people for their support.
By Jeff Johnson for Competitor
Although Steve Prefontaine continues to be widely remembered, idolized and celebrated 40 years after his fatal car accident in May 1975, few think as highly of him as Jeff Johnson.
Before he became Nike's very first paid employee (among other innovations, he came up with the name "Nike"), Johnson was a renowned photographer for Track & Field News, where he first came into contact with the high school running prodigy from Coos Bay, Oregon. Over the next several years, as Johnson shot some of the most enduring action photos of Prefontaine, and then later worked with him at a fledgling running shoe company that featured waffle-iron outsoles, Johnson became a huge admirer of Pre, and frequently speaks about him to Nike employees, high school track teams and runners of all ages.
"Pre was an enormous force in the lives of those who saw him," Johnson says now. "And I wanted to capture a sliver of that experience for young people, because there's never been anyone like him since."
First meeting
I want to tell you about a boy. A boy who became a legend among American distance runners. People who never saw him run ask, "What was so special about him? He was just a runner." Well, I will tell you.
It was the summer of 1969, and I was on the campus of the University of Miami for the National AAU Senior Men's Track & Field Championships. I was just beginning a career as a photojournalist, and this track meet was one of my first assignments. I wanted to do a good job.
And so, I was preoccupied when I stepped into the elevator. As the doors closed, a small boy squeezed in behind me. From the look of him, he was about 12-years-old. I ignored him, but as we began our ascent, I became aware that he was looking me over.
"What event do you do?" he asked.
In that distant summer of 1969, I was 27-years-old, fit and undamaged by time. In that elevator of the athletes' dormitory, one might reasonably have mistaken me for a competing athlete. The boy obviously had. I told him I wasn't an athlete. I was a photographer for Track & Field News. Then I went back to ignoring him.
Continue reading at: running.competitor.com