Westward Bound with Kate Grace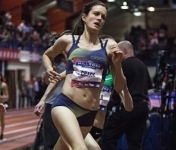 April 10, 2014
Oiselle star looks to take another big step forward in 2014
By Scott Bush, RunnerSpace.com
The definition of a breakout season just so happened to be Kate Grace's 2013 track season. The Oiselle-sponsored middle distance runner set PRs in the 800m, 1500m, Mile and won the USA 1 Mile Road Championship title. Clearly established as one of America's brighest stars in the 800/1500/Mile distances, Grace, 25, is poised for another big season, as she looks to stay healthy and adapt to a new training situation in Bend, Oregon.
We caught up with Grace recently, discussing her current fitness, her move from the east coast to the west coast, what it's like to be on Team Oiselle and much more. Take a few minutes today and learn about a rising star in our sport.
Scott Bush (SB): You've been fairly quiet in 2014. How's training going?
Kate Grace (KG): Uh oh. That's not a good report on my social media-ing. I have been quiet on the race front. Last season ended early, due to a plantar injury. And then I discovered that a) plantar stuff really sucks, or b) I'm horrible at rehab. Probably a bit of both.
Anyway, it took forever to get back to normal training, hence the decision to cut out indoor track. It's allowing me to get a great base, and string together weeks uninterrupted by races. I finally feel like I am building a good block of work. I plan on racing a long outdoor season as a result. But yeah, how is it going right now? I'm tired!
SB: When will you be opening up your outdoor season and what event will you open up with?
KG: I'll be running a 1500 at Payton Jordan on May 4. Then on to Occidental High-Performance meet on the 15th, for another 1500, and an 800 at the races the night before Prefontaine.
Continue reading at: www.runnerspace.com