Waskom leads record eight UW Dawgs to sub-4 Mile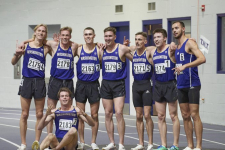 January 27, 2023
"It was really hard, but it's so special doing it with your teammates and seeing everyone thrive and succeed around you."
From University of Washington Track & Field
SEATTLE – In a record-setting, jaw-dropping display of depth and teamwork, eight members of the Washington track & field squad broke the coveted 4 minute Mile mark together tonight on day one of the UW Invitational in the Dempsey Indoor. And at the front of the purple wave, reigning NCAA 1500 meter champion Joe Waskom threw down a 3:51.90, the third fastest indoor Mile in collegiate history (5th overall), a Dempsey record and a 2023 world leading time. The previous collegiate team record in the same race was 5 men by Virginia Tech in 2021.
All eight of the UW men racing tonight had broken 4 minutes in the past, so they knew what they were capable of, but working together brought an incredible barrage of some of the fastest times in NCAA history.
Right behind Waskom, Brian Fay crossed in 3:52.03, tied for the fifth-fastest indoor time in NCAA history. Nathan Green, who only broke the 4:00 mark for the first time two weeks ago, ran nearly six seconds faster today, going 3:52.76, for the #7 fastest time ever.
Kieran Lumb was fourth in 3:53.83, which puts him 11th all-time. Sam Ellis, the one Husky out of the eight who was competing unattached due to only having outdoor eligibility remaining, was just .01 behind Lumb in 3:53.84. Luke Houser ran a PR of 3:55.98. Aaron Ahl was seventh in 3:57.94 and Aidan Ryan dipped under the mark as well in eighth in 3:59.55.
"It's pretty special to have eight sub-4s in a single race," said Waskom. "We all knew it was possible. But it's tough to do it in the same race. The pacing has to be perfect. (Race pacers) Johnny (Gregorek) and Sam (Prakel) brought us through absolutely perfectly. All of us working hard together, Brian and Nathan pushing me that last 200. It was really hard, but it's so special doing it with your teammates and seeing everyone thrive and succeed around you."
"I thought 3:52-high was in the cards. But having Brian over the last 200 meters pushing me, I just thought 'go with him' and down the stretch I just gave it everything I had."
The leading time in the NCAA this season coming into today was 3:55.58, so the Huskies will take over the top four spots, and have five of the top-seven.
Waskom believes the Huskies have as much mid-distance talent as any training group, full stop. "There might be one other group in the entire world that has as much talent and success as ours has. Andy (Powell) and Chris (Kwiatkowski), they bring in the right guys. Today it wasn't even supposed to be competitive, we were just supposed to be working together, pushing each other, and I think it's pretty special when you have eight guys that want the best for you just like they want the best for themselves."
Waskom, Fay, Green, and Lumb all bettered Izaic Yorks' 2016 UW record of 3:53.89, which at the time was the fastest ever by an American collegiate indoors. It also broke the facility record of 3:52.61 set by Ethiopian Yomif Kejelcha, who broke the indoor world record in the Mile in 2019.
Coming into tonight, 16 Huskies had run sub-four Mile times overall, with nine of them joining that list in just the past five seasons since Andy Powell became Head Coach. Officially, Ahl and Ryan join that group for the first time to push it to 18.
Never before had more than two Huskies broken the mark in the same race. Washington is believed to be the first school ever to have more than four men under 3:56.00 in one season, let alone in one race.