Two-Time Olympian Steve Scott Retiring as CSUSM Head Coach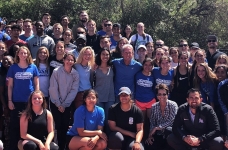 April 22, 2018
Mile legend the university's first cross cross country and track & field coach since 1999; on campus retirement open house on Thursday, May 10
From Cal State San Marcos
Two-time Olympian Steve Scott, the only cross country and track & field coach in Cal State San Marcos' history, announced Tuesday that he will retire at the end of the season.
A member of the USA Track & Field Hall of Fame, Scott has guided the Cougars' cross country and track & field programs since their inaugural season in 1999.
"Working at Cal State San Marcos for the last 19 years has been a wonderful experience," Scott said. "It has been a joy working with the student-athletes. It has been an experience that I will treasure forever.
"I would like to thank the administration at Cal State San Marcos, from President Karen Haynes to Director of Athletics Jennifer Milo. They have provided tremendous support not only for me but also for the program. I am indebted to them for the rest of my life for this experience."
Scott started the cross country and track & field programs from scratch, turning CSUSM into a perennial powerhouse in the National Association of Intercollegiate Athletics. He guided the women's cross country team to three straight NAIA national titles from 2009-11.
Before CSUSM's transition to NCAA Division II membership, Scott coached 34 cross country NAIA All-Americans, 86 outdoor track & field NAIA All-Americans and 13 indoor track & field NAIA All-Americans. He was a three-time NAIA Women's Cross Country of the Year and an 11-time Association of Independent Institutions (AII) Cross Country Coach of the Year.
"This news is bittersweet," Milo said. "I hate to lose Steve's leadership in our department, but he has built his legacy and is leaving here having accomplished everything and more he could have hoped for. His student-athletes are better people because they had Steve Scott in their life."
Scott is among the most decorated runners in U.S. history. As a collegiate runner at UC Irvine, he won the NCAA 1500 meter championship in three consecutive years from 1975-77. He won the 1500m Olympic Trials in 1980, but wasn't able to compete because the United States boycotted the Summer Games. He competed in the Olympics in 1984 and 1988.
In 1981, Scott set the American record for the Mile (3 minutes, 48.68 seconds) and the 1500 meters (3:31.96). He bettered his Mile record to 3:47.69 the following year, setting a mark that stood for more than 25 years.
Scott was the national outdoor 1500m champion six times and clocked a world record 137 sub-4 minute Mile races.
The CSUSM Department of Athletics will host a farewell open house in Scott's honor from 2:00-4:00pm on Thursday, May 10 in the courtyard of The Sports Center. Scott's longtime assistant coach, Wes Williams, will also be retiring at the completion of this season. The celebration will be open to the public to join the campus community in celebrating both of their outstanding careers. Light refreshments will be served, and parking will be first come first served in The Sports Center / The Clarke Field House Parking Lot L. More details about the event will be available in the coming weeks.