Trio of Meets Celebrates the Mile & American Middle Distance Running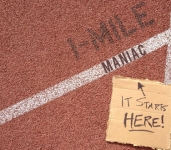 June 05, 2014
All three meets partnering with the Bring Back the Mile campaign to celebrate and promote the storied distance
By Chris Lotsbom, Race Results Weekly
Today marks the 50th anniversary of Jim Ryun becoming the first high school boy to break the famed 4 minute Mile barrier. Timing 3:59.0 in Compton, Calif., Ryun instantly etched his name in American track & field lore. Across the country, a trifecta of meets will be run today focusing on the Mile and middle distances, giving fans a chance to watch some of the nation's best talents while celebrating this special day.
At Balboa Stadium in San Diego, Calif., the Jim Ryun Festival of Miles will be held, featuring the likes of IAAF World Championships competitor Sarah Brown and Olympic medalist Deena Kastor.
On the East Coast, roughly 15 Miles northwest of Boston in Concord, Mass., the Adrian Martinez Classic presented by HOKA ONE ONE will host its first elite competition, with 2012 Olympic silver medalist Leo Manzano headlining the Adro Mile. In addition, elite 800m and 5000m races will be run.
In St. Louis, the seventh annual Nike Festival of Miles will showcase a total of twelve races, including an elite men's Mile featuring Oregon Track Club Elite's Jordan McNamara and New Balance's Craig Miller, as well as a professional women's 800m.
All three of these meets have linked up with the Bring Back The Mile campaign, seeking to extend the reach of track and field to the masses while promoting the lore and magic that is the Mile. All three meets expect good crowds, with the Nike Festival of Miles predicting more than 2,000 spectators.
Continue reading at: runnersweb.com