Thomas Ratcliffe sets DCL record in Mile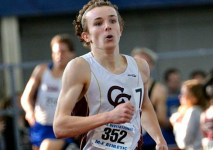 January 08, 2016
Concord-Carlisle HS athlete clocks indoor 4:14 in 2016 debut: "It was a good race. I'm happy with my fitness."
By Stephen Tobey, Concord Journal
On Wednesday, Jan. 6, Concord-Carlisle senior Thomas Ratcliffe competed in the Mile for the first time this indoor track season.
In a dual meet against Wayland at Boston University, Ratcliffe placed first in 4 minutes, 14.01 seconds. While it's not his personal best, his best time indoors is 4:10, set last winter at the New Balance Grand Prix, it did set a Dual County League record.
James Sullivan of Acton-Boxborough set the previous record of 4:19.34 in 2012. Before Sullivan, Alberto Salazar of Wayland held the record of 4:22 since 1975. Salazar went on to win the New York City Marathon three times and compete in the 1984 Olympics.
Continue reading at: concord.wickedlocal.com