The Trials of The Mile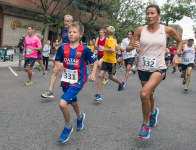 August 14, 2017
My sons slept in their new Pearl Street Mile T-shirts — and so did I! — proudly wearing them and discussing our races in the next morning.
By Lisa Jhung, Motiv Running
By most accounts, I'm a somewhat crotchety, just-about-middle-aged trail runner. I like most of my runs to be off-road rambles on beautiful trails, sometimes with my dog, or friends, or with just the chipmunks and sparrows.
So why, on earth, would I want to do a 1-Mile road race? A race distance on pavement that is perhaps the most painful chunk of minutes one could possibly put themselves through on purpose?
Why? Because it's fun to push yourself and see what you can do in a short, fast race. I get something unique out of taking it to the limit and seeing how fast I can go, even if I can't always run times I'd like to. That invigorating thrill is just the same—or maybe better—than it was years ago. Plus, the training is focused around running shorter, faster efforts, which means it is time-efficient. Sometimes that can make you feel wrecked for the rest of the day, but that can also make you feel alive. It's all good fun, and I'm not alone in thinking so.
Continue reading at: www.motivrunning.com