The Ruth Wysocki Interview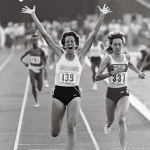 August 01, 2014
I was just running for place, came up on Mary and I heard those three men's voices saying, 'If you're with her with 200 meters to go you can beat her.'
By Gary Cohen, GaryCohenRunning.com
Ruth Wysocki was a member of the 1984 United States Olympic team which competed in Los Angeles in the 800 and 1500 meters, finishing 6th and 8th, respectively. She was the 1500m champion at the 1984 U.S. Olympic Trials. Wysocki competed five times in the U.S. Olympic Trials. Ruth finished seventh at 1500 meters at the 1995 World Track & Field Championships in Gothenburg, Sweden. She was the 1978 AAU 800 meter champion and 1968 national age group cross country champion. Her personal record times include: 800m = 1:58.47; 1000m = 2:38.36; 1500m = 4:00.18; Mile = 4:21.78 (debut); 2000m = 5:40.09 and 3000m = 8:52.91. In 1997, Wysocki set several Masters Records at distances from 800 meters to 5000 meters on the track, and 5K & 8K road races. Her Masters PRs include: 800m = 2:03.95; 1000m = 2:40.42 and 1500m = 4:08.69 Ruth resides in Temecula California with her husband Tom, with whom she has two children.
GCR: Ruth, thank you so much for doing this interview. The timing is right as within the past week you were a part of the 30th anniversary celebration of 1984 Olympics Opening Ceremonies. How was that event and can you believe it has been 30 years?
RW: I have a hard time believing it's been thirty years. Although my eye opener occurred at the running store where I work as at our old location we had a poster of the 1984 Olympic Trials that Brooks made with the finish of the 1500 meters. I would kind of tend to forget that it was there, but every once in a while I would see someone kind of look at the poster, look at me, look at the poster and look back at me again. One day a few years ago this happened and a guy said, 'that's you, isn't it?!' And at that moment it clicked that in the picture I was 27 years old and I was standing there at age 54, which was 27 years later. Suddenly it occurred to me that a whole lifetime had passed since that picture was taken.
GCR: How enjoyable was the get-together in Los Angeles with your fellow 1984 Olympians and which old friends was it great to see?
RW: It was very enjoyable. It was put on by the L.A. 84 Foundation which has been an active group for sports. They have an extensive sports library and conduct seminars. My friend, Jacqueline Hansen, worked for them for years. They commemorated the Opening Ceremonies and had Peter Ueberroth and Rafer Johnson there. Rafer walked in this time with the torch. It was great to see other athletes and to realize that the Olympics crosses many lines including lines between other sports. The friendships go beyond just the track. There were some people there I hadn't seen in a long, long time – Edwin Moses, Danny Harris, Pam Spencer. There was Mary Lou Retton and Rowdy Gaines. It was a casual evening and a great reunion.
Continue reading at: garycohenrunning.com