The accidental track star of North Hills Monroe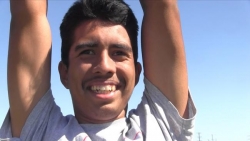 March 22, 2016
"I think I'm a Miler, but because I have a faster time in the 800, they doubt me. I think I can run faster." - Carlos Martin Del Campo
By Eric Sondheimer, Los Angeles Times
Carlos Martin Del Campo and his track coach at North Hills Monroe, Leo Hernandez, will probably debate, argue and squabble until each has gray hair or no hair at all over whether Martin Del Campo had soccer ability.
"I've seen him play," Hernandez said. "He wasn't that good."
"Not true," is Martin Del Campo's reply.
The facts are clear. Martin Del Campo became the accidental cross-country and track standout at Monroe when he was cut from the soccer team as a freshman. The speed that had been developed from playing years of soccer transferred perfectly into the running world.
Continue reading at: latimes.com