That Pre Thing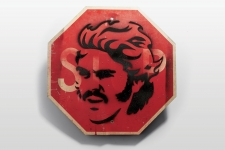 April 01, 2013
He wasn't always the fastest. Nor was he the most decorated. So four decades after his death, why is Steve Prefontaine still the most influential American runner ever?
By Michael Heald, Runner's World
The grandstand at Marshfield High School is nearly empty, but it seems like everyone in Coos Bay, Oregon, is on the track. People are crossing the finish line in every way possible—the buzz-cut high school kids out in front, the stoic folks wearing earbuds, the willowy 9-year-olds accompanied by red-faced parents. Old-timers limp around the turn to huge applause. A handful of people propel themselves toward the finish line, unashamed of the spittle hanging from their lips and of their gasps and of having run themselves ugly. And then there's me up in the grandstand in my jeans and my Chuck Taylors and my different kind of ugliness.
Last night, driving down from Portland for the Prefontaine Memorial Run, I almost convinced myself that I was still a runner. As I swept past the dunes and onto the Coos Bay Bridge, I gave it one last college try: If you're seriously going to look for him, was my logic, you've got to get yourself on that starting line. The opening bars of "Born to Run" were soaring out over the Pacific, and the idea of lacing up my old New Balances and chasing after his ghost no longer seemed like such a potentially stupid and/or painful idea. Maybe all this time off was exactly what I needed. Maybe it was like I'd been tapering for the past couple years. Maybe I even had a sub-40 in me.
Continue reading at: www.runnersworld.com