Summer of running success for Enola's Nick Berra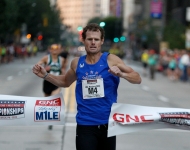 August 19, 2013
Berra, 44, takes USA Masters 1 Mile Road Championship and Harrisburg Mile 40-plus titles
By Kelly Leighton, The Patriot-News
For Enola's Nicholas Berra, 44, winning the recent USA Masters 1 Mile Road Championship hosted by the GNC Live Well Liberty Mile (right) in Pittsburgh on Aug. 9 was, to put it simply, "great."

Berra clocked his Mile in 4 minutes, 28 seconds, winning the race by three seconds, and he also pocketed $600 as national Masters champion (40 and older).

"Since I am most competitive on the track at the middle distances, such as the 800 meter, 1500 meter and Mile, I was excited that they decided to add the Mile, which is becoming a very popular distance for road racing," he said. "I knew, based on my success on the track and in other recent road Miles, that I would be very competitive. It was great getting the win because national titles like this one get harder and harder the older you get."
Berra has had quite the summer, having also competed in the USATF Outdoor Nationals in June, winning the 800 meter race. "I had changed up my training a bit and I was feeling very confident going into the race," he said. "Since I am now 44 years old, I am no longer one of the younger guys, but I was savoring my role as an underdog for a change. I ended up coming from behind and winning with a time of 1:56.27, which is as fast as I have run in three years. I even surprised myself when I saw the clock."

Berra described the Outdoor Nationals as fun, as the large crowd support is bigger than most masters runners are used to, due to all the Olympic-caliber athletes participating at the meet. "The race field is always very strong because if you can get invited to this race, you drop what you are doing and go," Berra said.

To round out a summer of competing, Berra also ran the Harrisburg Mile in July, finishing second overall, and first Masters runner with a time of 4:24. Berra said he always participates in this race because he enjoys doing it with his family and neighbors.
Continue reading at: http://blog.pennlive.com