Sub-4:20 Miler Brenda Martinez Has Big Goals for the Carlsbad 5000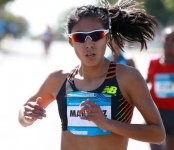 March 20, 2015
"If I'm there in the final Mile or even the final quarter than I will be really excited."
By Duncan Larkin, Competitor Magazine
It's a given that runners—no matter their ability or age–have to be tough. Let's face it: this beloved sport of ours is a demanding one that requires Herculean levels of determination and just pure grit in order to keep on putting one foot in front of the other.
And so when it comes to competing at the highest levels of running, it's no surprise that the elites of this sport have to be as hard as nails. This is the case of 27-year-old Brenda Martinez who competes in the 30th Carlsbad 5000 on Sunday, March 29.
How tough is Martinez? Here's an example: Last month the UC-Riverside graduate was anchoring the women's distance medley for the USA squad at the 2015 New Balance Indoor Grand Prix in Boston. Martinez got the baton for the 1600m leg at the same time as rival Nicole Tully. In the final 400 meters, Tulley surged past Martinez, but the race wasn't over—not by a long shot. Martinez, didn't give up, and kicked ahead of Tulley to break the World Record for that event.
Continue reading at: running.competitor.com