Still unbroken after 40 years, what's holding back an Irish Mile record?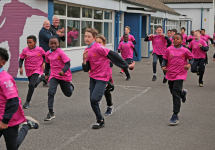 September 24, 2022
Ray Flynn has a few different theories as to why his records have lasted so long, still there's no denying the event has moved on.
By Ian O'Riordan, The Irish Times
In the old school playground where Ireland's Mile record holder first learned to run, a class of pupils come racing by oblivious it seems to time or pace.
Ray Flynn doesn't say it out loud, only may well be wondering if one of these youngsters will ever run faster than he did.
It's been a long time since Flynn ran around here, and even if the scene within St. Michael's Boys National School in Longford town hasn't changed lots of things on the outside have. It's one of the reasons he's come back to school with what might be the easiest lesson of the day.
The Daily Mile has been going for 10 years now, beginning in the UK and now running in 89 countries, a simple idea to get primary school classes walking or running for 15 minutes a day – with potentially big impacts on long-term health and wellbeing.
"We would have been doing daily miles ourselves, when we were younger, all naturally," Flynn tells me. "We do need to push it more now, make it more structured, even walking the Mile, because exercise is more necessary now, especially around childhood obesity, all you have to do is look at the body types."
The oldest of nine children, running become a lot more than a playground act after Flynn started in St. Mel's College next door, then became a serious business in 1974 after he left for college in East Tennessee State at age 17. Three years later he ran his first sub-4 minute Mile at the Penn Relays in Philadelphia, a sign of the greater things to come.
Fast forward another five years to the 1982 Dream Mile, Oslo, and at the bell lap Flynn is right on the heels of John Walker and Steve Scott, all three running somewhere around world record pace.
Down the backstretch, the Bislett Stadium heaving, Scott moves in front, Flynn giving chase in second, all three still flying. The time they're after is Seb Coe's 3:47.33, set the year before, and it's going to be close.
Into the home stretch and Scott now has a 5-meter lead, which the American extends to the line in 3:47.69, just missing the world record. Walker comes back to take second in 3:49.08, Flynn two strides behind in 3:49.77 – all three setting national Mile records.
Just as good for Flynn, he's clocked at 3:33.5 for 1500 meters, so walks away that night as both Irish Mile and 1500m record holder. The fact both his records set as a 25-year-old still stand 40 years later is surprising, he tells me, before quickly upgrading that to shocking.
I jest we're certainly getting good mileage out of his records, reminding Flynn of an article we wrote in 2002, when the records turned 20, wondering then how much longer they could possibly survive. Truth is they may not be going anywhere fast.
Despite all the advancements around distance running – altitude training, heart rate and lactate measuring, super-fast carbon spikes etc – the fact two of those records still stand 40 years later is a measure and reminder of their greatness. Still, natural progression should by now be having some say.
Scott eventually lost his American record to Alan Webb (who ran 3:46.91 in 2007) Flynn's 3:49.77, the first sub-3:50 by an Irish athlete, just about holding off the 3:49.78 indoor world record that Eamonn Coghlan ran a year later. Walker's 3:49.08 is also still unbeaten in New Zealand.
In the 40 years since, several generations of Irish athletes have presented themselves as record contenders, Ciarán Ó Lionáird's 3:52.10, run indoors in 2013, still the closest of the last decade. The Mile may be less prevalent on the running circuit than it was in 1982; still, on the Irish 1500m all-time list, five of the top 10 were clocked before 2001.
Continue reading at: irishtimes.com
Longstanding Irish Mile Records
3:49.77 Ray Flynn, Oslo, NOR, 07/07/82
4:17.25 Sonia O'Sullivan, Oslo, NOR, 07/22/94