Steve Scott One-Upped Himself at 1978 NCAAs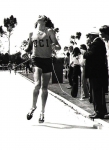 October 13, 2020
UC Irvine Anteater secures NCAA DI title with strong frontrunning tactics at historic Hayward Field
From USTFCCCA
Steve Scott had no chance to win a fourth-straight NCAA Division II Mile / 1500 meter title in 1978.
That's because his school, UC Irvine, had moved up to Division I.
However, Scott had already shown he was more than ready for the challenge in 1977, when he finished as runner-up at the NCAA Division I meet a week after becoming the first NCAA DII athlete to complete the 800-1500 title double.
In fact, Scott entered the 1978 NCAA DI final at Hayward Field as one of the favorites, having won the 1977 AAU national title. He even had some previous success at Hayward Field, where he gave the Prefontaine Classic its first sub-4 Mile in 1977 and was a surprise finalist at the 1976 U.S. Olympic Trials, finishing seventh.
But, like everyone, Scott – a native of Upland, California – knew most in the crowd would be cheering for Oregon's Matt Centrowitz, a 1976 Olympian running his final race as a collegian at Hayward Field. "I know that nobody wants to win more than me," Centrowitz told John Conrad of the Eugene Register-Guard before the final.
Neither Scott nor Centrowitz wanted a repeat of the 1977 race, in which Scott found himself boxed in when the finishing kicks started and Centrowitz watched from the stands after not making the final.
So, shortly after the first lap, Scott went to the lead and had his closest challenge from Centrowitz all the way until the bell lap began. Scott maintained the lead as Centrowitz was passed entering the backstretch by East Tennessee State's Ray Flynn, who stuck with Scott until the finish as Scott won by a tenth of a second in 3:37.6.
Centrowitz, who ended up sixth, was somewhat surprised by Scott's strategy: "I knew he was capable of running strong the whole way, but I didn't think he'd do it. He really wanted to win it."
Scott agreed with that observation, saying "I dreamed all week of taking a victory lap after the race."
Interestingly, the victory by Scott didn't make him the first Anteater to win an NCAA Division I crown, as Mauricio Bardales got that honor the night before by winning the decathlon with 8,007 points.
Scott went on to become one of America's best-ever Milers, breaking Jim Ryun's 3:51.1 American record from 1967, becoming the first American to run sub-3:50 – his PR of 3:47.69 still rates as second-best by an American and running a record 137 sub-4 Mile times.
In 1999, Scott became a coach, starting the track & field and cross country programs at Cal State San Marcos – whose women won three NAIA national cross country titles 2009-11 (the men were runners-up in '11) – before retiring in 2018.