State Street Mile, The Fastest, Funnest Mile in the West, Ready to Run on Sunday, June 3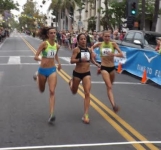 May 25, 2018
Race proceeds go to the Santa Barbara District Attorney's Crime Victim Emergency Fund; 1,000-plus participants expected at 19th edition; also the unofficial World Championship Dog Mile
SANTA BARBARA, Calif. – The 19th State Street Mile on Sunday morning, June 3 will welcome 1,000-plus human & dog milers of all ages & abilities for the annual pre-summer Santa Barbara running event. The "Fastest, Funnest Mile in the West" features a gradual downhill, point-to-point course that showcases beautiful downtown Santa Barbara. All event proceeds go directly to the Santa Barbara District Attorney's Victim-Witness Assistance Program's Crime Victim Emergency Fund.
"At our 19th edition, all the participants – kids to seniors, humans and dogs – will experience the joy and fun of going down traffic-free State Street at a mile pace of their choice, and all for a great cause, our county's Crime Victim Emergency Fund," said race director Megan Rheinschild. "We again expect some fast mile racing with Open fields that include 2017 women's runner-up Ayla Granados and former Dos Pueblos track star & recent University of Oregon grad Bryan Fernandez."
Last year, Tori Tsolis of San Jose and UCSB assistant track coach Darius Terry won closely contested Open races, clocking 4 minutes, 22 seconds and 3:54, respectively. Tsolis, a UCSB graduate & former school 1500 meter record holder, also broke the women's course record, besting the previous mark by 1 second. An event record 8 men also went under the coveted 4 minute standard (old record was 6 sub-4 in 2013-14 and 2016). At the 2013 event, Michael Coe, from Oakland, blazed a 3:49 to set the current men's course record, the fastest mile run in California.
At the Platinum Performance Dog Mile, the unofficial world championship, Geoffrey Gray & Hank (white Labrador) won in 4:37 (the pair also won the race in 2014), while the female human-dog winners were Jill Deering & Abbey (Chihuahua mix), 5:38. All four champions were Santa Barbara locals. In 2016, Brian Duff & Kaydom (Weimaraner) recorded a hard-to-believe 4:13, the fastest known human-dog mile performance ever.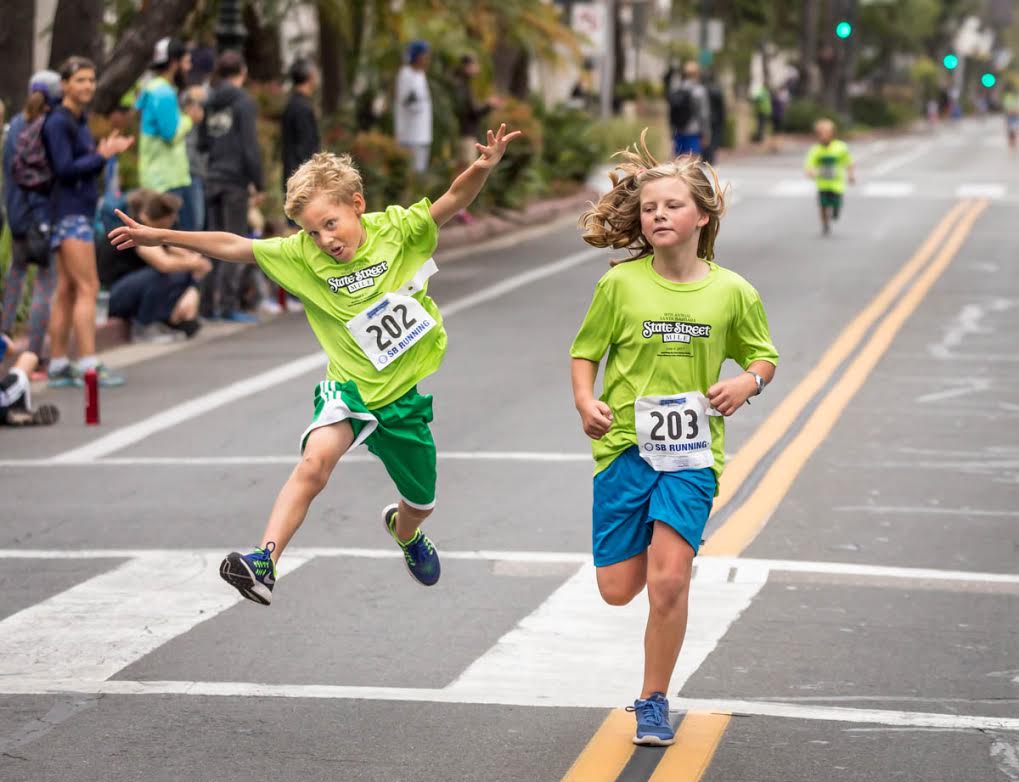 Race day starts at 8:00am with eight age group categories (10 & under, 11-14, 15-19, 20-29, 30-39, 40-49, 50-59, 60-plus) followed by the popular YMCA Family Fun Mile, Amputee Mile presented by Achilles Prosthetics & Orthotics, Masters Elite Mile, HOKA ONE ONE Elite Mile, and ending with the not-to-be-missed, tail wagging fun Platinum Performance Dog Mile, the unofficial world championship.
The 2018 guaranteed Open prize purse totals $5000 and goes 4-deep per gender ($1000, $750, $500 and $250) plus $1000 Open course record bonus (3:49 men and 4:22 women) and $100 Masters-only course record bonus (4:12 men and 4:57 women). All kid finishers will receive a medal in the Family Fun Mile.
The State Street Mile is also a SBAA Grand Prix and Junior Grand Prix Series event.
Event Registration & Packet Pickup
Online registration will remain open until Friday, June 1 at 11:59pm PST (go to: sbmile.com). On Saturday, June 2, there will be event registration and bib number pick-up available at Santa Barbara Running Company from noon to 4:00pm (110 Anacapa Street, Funk Zone). Also at 7:00am on race day, Sunday, June 3, bib number pick-up and registration starts at Pedregosa & State Streets in Santa Barbara. The race finishes at State & De La Guerra Streets.
About the State Street Mile
The annual State Street Mile, featuring a gradual downhill, point-to-point course, benefits the Santa Barbara District Attorney's Crime Victim Emergency Fund. The 19th edition is again a Bring Back the Mile Featured Event, showcasing the best Mile races in America and throughout the year.
To register or for more information, go to: sbmile.com