State Street Mile Celebrates 20th Running on June 2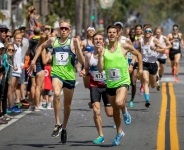 May 23, 2019
Milestone anniversary $10,000 Super Bonus offered; 1,000-plus participants expected; also the unofficial Dog Mile World Championship; event proceeds go to the Santa Barbara District Attorney's Crime Victim Emergency Fund
SANTA BARBARA, Calif. – The State Street Mile on Sunday morning, June 2 will celebrate its 20th running, and like past editions, more than 1,000 human & dog Milers of all ages & abilities will run or walk down the closed to traffic route. Known as the "Fastest, Funnest Mile in the West," the annual Santa Barbara community event features a gradual downhill, point-to-point course that showcases beautiful downtown Santa Barbara. All event proceeds go directly to the Santa Barbara District Attorney's Victim-Witness Assistance Program's Crime Victim Emergency Fund.
"We look forward to presenting our 20th anniversary edition for all the participants – from kids, seniors, new runners, competitive runners to canines as well as for all the spectators, and like past editions, event proceeds support our county's Crime Victim Emergency Fund," said race director Megan Rheinschild. "In addition, we expect some fast Mile racing with perhaps some course records in the Open and age group divisions."
NEW THIS YEAR
The 20th Anniversary State Street Mile Super Bonus
presented by HOKA ONE ONE & InTouch Health
The event is offering a $10,000 Super Bonus for the first elite finisher, man or woman, who runs faster than the following standards: 3:47.00 (men) and 4:17.00 (women). The bonus will be split evenly if both gender winners break the aforementioned time standards. If the Super Bonus is achieved, the $1000 event record bonus will also be awarded.
In addition, for the 2019 State Street Mile, a special event has been added, the Backwards 1K Walk Guinness World Record attempt (after race heats).
Last year, Connor Clark of Mill Valley and 2015 women's champion Tracee van der Wyk of Temple City won thrilling Open races, clocking 3 minutes, 54 seconds and 4:29, respectively. Also, Clark led an event record 11 men under the coveted 4 minute standard (old mark was 8 sub-4 in 2018). At the 2013 event, Michael Coe, from Oakland, broke the tape in 3:49 to set the men's course record, the fastest Mile ever run in California.
In the Dog Mile, Geoffrey Gray & Hank (white Labrador) defended their title in 4:25 (the duo also won in 2014), while the female human-dog champions were Michelle Duff & Kaydom (Weimaraner), 5:28. Kaydom also won the 2016 race with Michelle's husband Brian as the pair recorded an impressive 4:13, the fastest known human-dog Mile race performance ever.
Race day starts at 8:00am with eight age group categories (10 & under, 11-14, 15-19, 20-29, 30-39, 40-49, 50-59, 60-plus) followed by the popular YMCA Family Fun Mile, Masters Elite Mile, HOKA ONE ONE Elite Mile, and ending with the must-see, tail wagging Dog Mile, the unofficial world championship. The race starts near Pedregosa Street and finishes near De La Guerra Street.
The 2019 guaranteed Open prize purse totals $5000 and goes 4-deep per gender ($1000, $750, $500 and $250) plus a $1000 Open course record bonus (3:49 men / 4:22 women) and $100 Masters-only course record bonus (4:12 men / 4:57 women). In the Family Fun Mile, all children finishers will receive a medal.
The State Street Mile is also a SBAA Grand Prix and Junior Grand Prix Series event.
About the State Street Mile
The annual State Street Mile, featuring a gradual downhill, point-to-point course, benefits the Santa Barbara District Attorney's Crime Victim Emergency Fund. The 20th edition is a Bring Back the Mile Featured Event, showcasing the best Mile races in America and throughout the year.
To register or for more information, go to: www.sbmile.com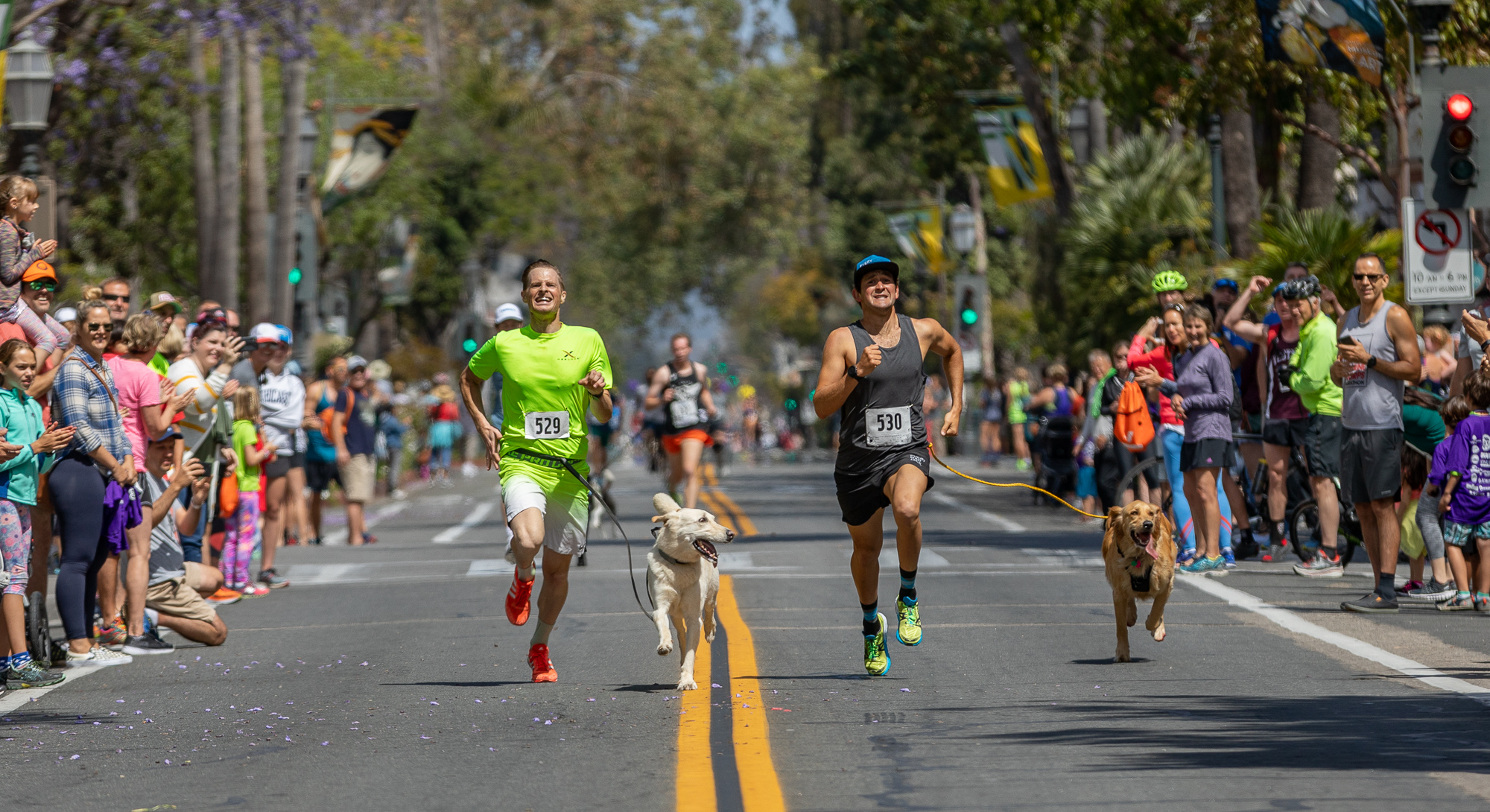 Photo credit: Fritz Olenberger