State Mile Guide: #1 Delaware
March 07, 2013
Date of Statehood: December 7, 1787
Capital: Dover
Motto: Liberty and Independence
Delaware is one of only a handful of states in which no athlete has broken the 4 minute Mile barrier on its soil. Vic Zwolak, born in Wilmington, DE, is one of the most accomplished Milers leading all Delawarean men with his 4:05.1 clocking in 1962. Delaware's first Track & Field Olympian (1964), Zwolak was also a three-time NCAA champion at Villanova where he won the 1963 Cross Country title as well as the 1963 and 1964 3000m Steeplechase crowns. For women, two-time Olympian (1988 & 1996) and Wilmington native Vicki Huber holds the overall Mile record (4:28.31 indoors in 1988). Huber continues to hold the Mile records, indoor and outdoor, at Villanova.
At the high school level, Tatnall HS has dominated the middle distance lists. Haley Pierce's 4:45.72 Mile at the 2011 adidas Grand Prix in New York is the prep state record.
Petition Delaware Interscholastic Athletic Association (DIAA) to Bring Back the Mile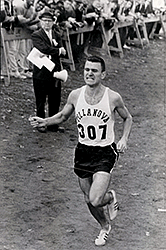 Vic Zwolak winning the 1963 NCAA Cross Country title for Villanova
STATE RECORDS
Delaware Soil
Male: Need - email us
Female: Need - email us
Delawarean
Male: 4:05.1, Vic Zwolak, 1962
Female: 4:28.31i & 4:28.77, Vicki Huber, 1988
i = indoors
BOYS:
Mile: 4:13.82, Dominic Della Pelle, Salesianum HS, 2006
1600m: 4:11.93, Brian Sklodowski, Tatnall HS, 2006
GIRLS:
Mile: 4:45.72, Haley Pierce, Tatnall HS, 2011
1600m: 4:41.19, Haley Pierce, Tatnall HS, 2011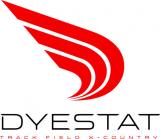 Join the Conversation on
Dyestat.com's Track Talk
JOIN BBTM
BBTM's state-by-state Mile guide is being produced to share the rich story of each state's history with the Mile, a distance regardless of age, gender or fitness-level, that everyone understands. If you consider yourself a Delawarean T&F sage and would like to help us fill out our guide, leave comments below or email milemaniac@bringbackthemile.com. We welcome your support and feedback!
REFERENCES