Sinclaire Johnson plays The Waiting Game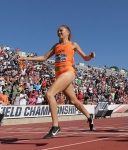 May 04, 2020
"And it will be really exciting obviously to train with Shelby [Houlihan] since she's the American record holder right now in the 1500. Getting the chance to train alongside one of the best I think will only make me better. I'm really excited about the future."
By Sieg Lindstrom, Track & Field News
What's a Miler to do when her season's shut down by a pandemic with a reopening date still anybody's guess? Every Miler is asking that question as the Olympic year now stands postponed for 12 months. Sinclaire Johnson, who won the NCAA 1500 last June in meet record time, has a partial answer.
"It's definitely hard," says Johnson, now in her first pro year on a Nike contract after foregoing her senior campaign with Oklahoma State, "just because there's no clear end in sight, I guess you could say. And we don't really know when we're going to get back to racing. But you know, this is a year that we can get better and so we're just training as if we're still having a season.
"With that being said, we're still breaking up training. So last Sunday I did an 800 time trial, and it was nothing like spectacular. I ran 2:03 but it was just something to break up training and feel like there's a purpose of what I'm doing, just mentally. So we're going to do a series of time trials and kind of just act like there is a season."
Watched from appropriate social distance by collegiate mentor Dave Smith, running with training partner Hannah Fields (2:00.53 / 4:05.30 PRs in '17), Johnson has a series of runs against the clock planned over the end of April and beginning of May paced by boyfriend and sub-4:00 Miler Craig Nowak.
"What we're trying to do," she explains, "is we had an 800 and then in a week we'll do a K and then 2 weeks [after that] we'll do 1200. And then 2 weeks after that we'll do another 800. For that 800 we're looking at me and Hannah trying to break 2:00. So, yeah, it'll be fun. My boyfriend Craig, he's also running professionally, will be pacing us. He paced us last Sunday and he'll pace for the remaining time trials. So that helps to have him there. And, hopefully we'll actually be able to break 2:00. That'd be really cool."
It would keep Florida native Johnson on the elite-level PR roll she got on last summer. After blasting to her 4:05.98 NCAA win over defending champion Jessica Hull with a 30.7 final 200, Johnson dropped her 2-lap best to 2:00.43 a month later.
At the USATF Outdoor Championships she cut an additional 2-seconds-plus from her 1500 PR, placing 4th in 4:03.72 in the the deepest women's 1500 in U.S. history: first time the top 5 sub-4:04, first time the top 10 sub-4:09, best time for place (3-12) and 5 personal records. Her 60.65 last lap was second-fastest in the field, eclipsed only by the 60.59 of rocket-finishing winner Shelby Houlihan.
Continue reading at: trackandfieldnews.com
NOTE: The first in a series of event-focus TFN articles on the U.S. women's 1500, an event on a hot streak and one in which we expect to see fierce-fierce racing when the competitive trek toward the Tokyo Olympics resumes.