Simpson, Willis Win NYRR Fifth Avenue Mile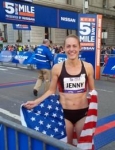 September 22, 2013
At 33rd edition, 16 men go sub-4 minutes and 12 women sub-4:30; more than 5,100 finishers race down famed thoroughfare
By Barbara Huebner, Marathon News Service
NEW YORK – For Nick Willis, it was a season marred by injury; for Jenny Simpson, it was another year on the medal stand and a personal best for Simpson. Both Olympians, however, walked away from their victories at the 33rd NYRR Fifth Avenue Mile Presented by Nissan on Sunday sorry to see it end.
Willis, 30, of New Zealand, became a two-time winner of the Fifth Avenue Mile when he crossed the line in 3 minutes, 52.1 seconds, followed by 2011 race champion Bernard Lagat of the United States in 3:52.9. Willis had an easier time of it over Lagat than he did in 2008, when he edged the two-time Olympic medalist at 1500 meters by barely a step.
Finishing third was rising star Garrett Heath of the United States clocking 3:53.0, a personal best. Overall, 16 men broke the coveted sub-4 minute Mile mark.
"I'm just starting to come into form right now, said Willis, whose 2013 season began with eight consecutive wins before a fall in the Diamond League meeting in Shanghai on May 15 put him on the shelf with a calf injury. "It's a shame there aren't more races."
Rehabbing the injury, combined with the birth of his first child, Lachlan, in early July, meant that Willis did not race again until early August, and the 2008 Olympic silver medalist at 1500 meters did not make it out of his semifinal in the IAAF World Championships.
A personal best at 3000 meters in Zagreb earlier this month, however, brought him to New York City with high hopes.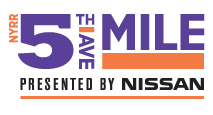 On Sunday, crosswinds kept the early pace slow, with no one willing to take control. The pace picked up when Willis's training partner, Will Leer, took the lead just before the 800 meter mark—winning the halfway bonus of $1000—before Willis found himself unexpectedly in the lead when a huge gust of wind shook things up with 500 meters remaining.
Continue reading at: www.nyrr.org
33rd NYRR Fifth Avenue Mile
New York, NY, Sunday, September 22, 2013
MEN
1) Nick Willis (NZL / MI), 3:52.1, $5000
2) Bernard Lagat (USA / AZ), 3:52.9, $3500
3) Garrett Heath (USA / CA), 3:53.0, $2500
4) Ryan Hill (USA / NC), 3:53.0, $1500
5) Will Leer (USA / MI), 3:53.1, $2000*
6) David Torrence (USA / CA), 3:53.2, $750
7) Craig Miller (USA / WI), 3:53.7, $500
8) Collis Birmingham (AUS), 3:54.3, $250
9) Matthew Elliott (USA / SC), 3:54.7
10) Ben Blankenship (USA / OR), 3:55.7
11) Leo Manzano (USA / TX), 3:56.0
12) Ben St. Lawrence (AUS), 3:56.2
13) Evan Jager (USA / OR), 3:57.6
14) Ryan Gregson (AUS), 3:58.1
15) Daniel Huling (USA / OR), 3:58.1
16) Andy Baddeley (GBR), 3:58.7
17) Nick Symmonds (USA / OR), 4:00.1
18) Brett Robinson (AUS), 4:02.0
19) Lopez Lomong (USA / OR), 4:02.9
20) Pablo Solares (MEX / CA), 4:05.3
*includes $1000 halfway prime
WOMEN
1) Jenny Simpson (USA / CO), 4:19.3, $6000*
2) Morgan Uceny (USA / CA), 4:23.4, $3500
3) Susan Kuijken (NED), 4:24.2, $2500
4) Violah Lagat (KEN), 4:25.1, $1500
5) Margherita Magnani (ITA), 4:26.5, $1000
6) Hannah England (GBR), 4:26.8, $750
7) Charlene Thomas (GBR), 4:26.9, $500
8) Heather Kampf (USA / MN), 4:27.8, $250
9) Katie Mackey (USA / WA), 4:28.1
10) Shannon Rowbury (USA / CA), 4:28.3
11) Gabriele Anderson (USA / MN), 4:29.0
12) Sara Vaughn (USA / OR), 4:29.8
13) Zoe Buckman (AUS), 4:30.0
14) Chelsea Reilly (USA / CA), 4:30.8
15) Eilish McColgan (GBR), 4:30.9
*includes $1000 halfway prime
Complete results and more at: www.nyrr.org