Simpson, Willis to Defend New Balance 5th Avenue Mile Titles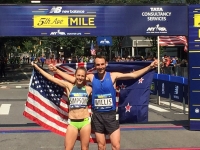 August 28, 2018
Stellar field with 19 Olympians to toe the line, including Centrowitz, Coburn, Grace, Lomong and Berian; world's most iconic road Mile race to be aired live on NBC, Sunday, September 9
From NYRR
NEW YORK — Olympic bronze medalist and three-time World Championships medalist Jenny Simpson and two-time Olympic medalist Nick Willis will go for their record-setting seventh and fifth event titles at the 2018 New Balance 5th Avenue Mile on Sunday, September 9. Stretching 20 blocks down Manhattan's most famous thoroughfare, the race will draw a professional athlete field from 11 countries that includes 19 Olympians and three past event champions.
"This year's New Balance 5th Avenue Mile will serve as a perfect setting for the world's fastest Milers to conclude their seasons. Jenny has already created so much history in New York as one of the best to have ever raced down Manhattan's most famous thoroughfare, and the professional men's field is shaping up to be quite the show with Nick, Matthew, Lopez, Eric, Boris, Ben and Chris," said Peter Ciaccia, president of events for NYRR and race director of the TCS New York City Marathon.
Race day begins at 7:25am ET and is expected to draw 7,000 runners across 22 heats – plus Rising New York Road Runners heats for youth – with the professional athlete races rounding out the day at 12:10pm ET. In partnership with New York Road Runners and USA Track & Field, NBC Sports Group will broadcast the New Balance 5th Avenue Mile live on NBC at 12:00pm ET.
In conjunction with the race, the NYRR Virtual New Balance 5th Avenue Mile will take place from September 1-9 as part of the 2018 NYRR Virtual Racing Series. The series allows runners anywhere in the world to run a race at their convenience and at a location of their choice during a specified period of time. Proceeds from the NYRR Virtual Racing Series, launched in beta together with Strava in 2018, benefit NYRR's youth and community programs.
Simpson, 32, is seeking her record-extending seventh title at the event after winning the race last year and matching the event record time of 4:16.6. She has earned three IAAF World Championships medals in the metric Mile, beginning with a gold at the 2011 World Championships. The Boulder, Colo. resident followed that with a silver in 2013 and another last year. In 2016, she took bronze in the 1500 meters at the Rio Olympics, making her the first American woman in history to reach the podium in that event. Jenny set a lifetime best in the Mile earlier this summer, running 4:17.30 at the Müller Anniversary Games IAAF Diamond League meet in London.
SImpson will be challenged by New Balance teammate Emma Coburn, who won bronze in the steeplechase at the Rio 2016 Olympics and gold at the 2017 IAAF World Championships and fellow Rio Olympians Colleen Quigley, who won the NYRR Wanamaker Mile in February, and Kate Grace.
Willis, 35, equaled the men's record with his fourth win at the 5th Avenue Mile last year, taking the tape in 3:51.3. The New Zealand athlete earned 1500 meter silver at the Beijing 2008 Olympics and then returned to the podium with a bronze medal finish at the Rio 2016 Olympics. He is the national record holder in that distance and has also won three medals at the Commonwealth Games.
Joining Willis in the professional men's field will be Matthew Centrowitz, who at the Rio 2016 Games became the first American since 1908 to win Olympic gold in the 1500 meters. He is a three-time World Championship medalist and three-time NYRR Wanamaker Mile champion, and he won the 5th Avenue Mile in 2012. Also toeing the line will be two-time Olympian Lopez Lomong, who won the U.S. national title over 10,000 meters in June; Boris Berian, the 2016 IAAF World Indoor champion over 800 meters; Ben True, this year's United Airlines NYC Half winner, and Chris O'Hare, who won the NYRR Wanamaker Mile in February and was runner-up to Willis last year on 5th Avenue.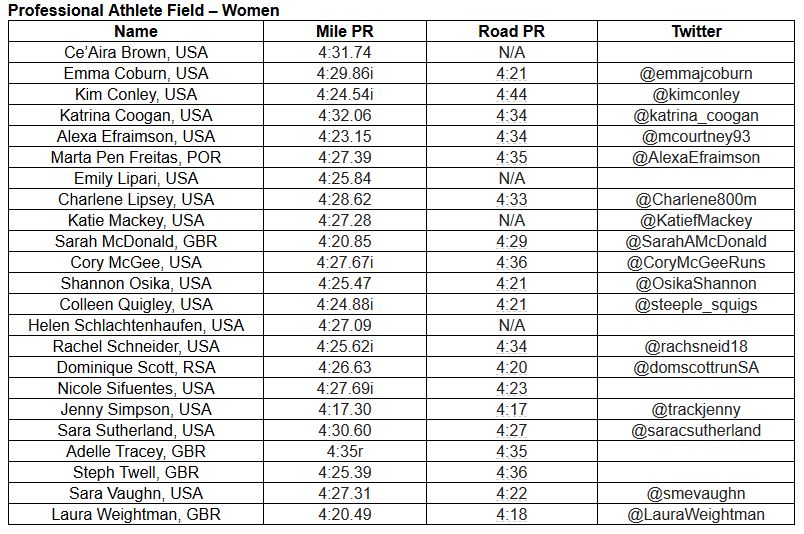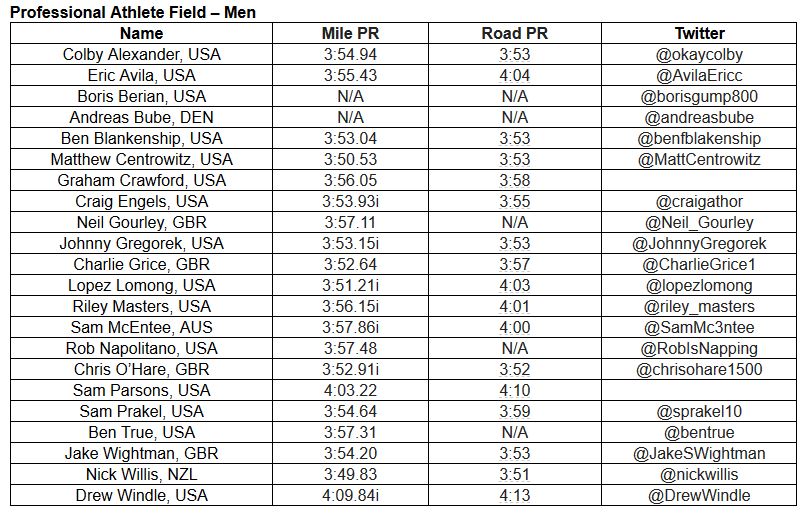 Visit NYRR.org for more information.