Schneider, Brannen Win Camel City Mile Titles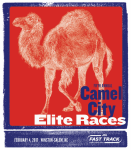 February 04, 2017
5th Camel City Elite indoor meet yields fast times and awards more than $40,000 in prize money and bonuses
From JDL Fast Track
WINSTON-SALEM, N.C. – The 5th Camel City Elite at the JDL Fast Track indoor facility on Saturday afternoon saw some outstanding performances led by 2016 Olympic 5000 silver medalist Paul Chelimo's win and facility record 7:45.49 in the men's 3000 meters presented by Salem Sports. Chelimo is the world indoor leader at 3000 meters and today's time was another top 10 world mark. Two-time Canadian Olympian Melissa Bishop defended her women's 800m title, clocking a world class 2:02.49, currently ranked 10th in the world, and Rachel Schneider won the women's Mile in a personal record 4:28.03, the fastest time of the year on a regulation 200 meter track.
Other top performances on the 200m Mondo flat track were recorded in the following events:
• Women's 3000m - Sara Sutherland won her first pro race in 9:00.35, while Allie Buchalski of Furman finished runner-up in an NCAA-leading 9:06.68 and Rachel Koon from North Carolina State was fourth in 9:09.99, #3 NCAA (conversion for a flat track).
• Men's 800m presented by Total Sports US - Eliud Rutto of Middle Tennessee State just missed the facility record with his swift 1:48.94.
• Men's Mile presented by Champion - Nate Brannen, a 3-time Canadian Olympian just missed a sub-4 performance outlasting Andy Bayer, 4:00.29 to 4:00.46.
The annual indoor meet, featuring one of the largest prize purses in the U.S. indoor track & field season, awarded more than $40,000 in prizes and bonuses in six events: men's & women's 800m, men's & women's Mile and men's & women's 3000m.
The Camel City Elite meet was packaged into an exciting 1 hour, 40 minute window and was also streamed live online by RunnerSpace.com.
5th Camel City Elite
Winston-Salem, NC, Saturday, February 4, 2017
Women's Camel City Mile
1) Rachel Schneider (Under Armour), 4:28.03, $4000
2) Cory McGee (New Balance), 4:30.03, $2000
3) Stephanie Garcia (New Balance), 4:32.41, $1000
4) Karisa Nelson (Samford), 4:38.27 (NCAA #3 rank by flat track conversion)
5) Erin Teschuk (ASICS Furman Elite), 4:39.59, $500
6) Katrina Coogan (New Balance), 4:41.94
7) Christy Cazzola (West Stride), 4:43.07
8) Kimberly Johansen (Elon), 4:45.34
9) Rachel Pocratsky (Virginia Tech), 4:45.38
10) Kathyrn Lazarchick (Wake Forest), 4:45.39
11) Ryen Frazier (NC State), 4:46.46
12) Nevada Mareno (unattached), 4:48.60
Men's Camel City Mile presented by Champion
1) Nate Brannen (CAN / unattached), 4:00.29, $4000
2) Andy Bayer (Nike), 4:00.46, $2000
3) Neil Gourley (Virginia Tech), 4:01.14 (NCAA #4 rank by flat track conversion)
4) Vincent Ciattei (Virginia Tech), 4:06.23 (NCAA)
5) Chad Noelle (ASICS Furman Elite), 4:07.27, $1000
6) Leo Manzano (HOKA ONE ONE), 4:08.75, $500
7) Robert Heppenstall (Wake Forest), 4:08.87
8) Nick Morken (North Florida), 4:09.49
9) Simon Holden (Wake Forest), 4:11.95
For more on the Camel City Elite meet including complete results, go to: www.jdlfasttrack.com