Sanford native Rachel Schneider takes aim at the Olympics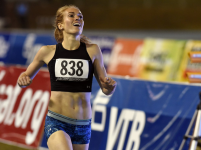 March 09, 2016
"I obviously really respect my opponents but … now know I can compete with them."
By Steve Craig, Portland Press Herald
Sanford native Rachel Schneider's career is on the rise and she has sights on an Olympic berth in the 1500 meters.
In a year, Rachel Schneider took her professional running career from virtual obscurity to landing a sponsorship deal and nearly qualifying for the World Championships.
Now the Sanford native and 2014 Georgetown University grad is pursuing a berth this summer at the Rio de Janeiro Olympics in the 1500 meters (metric Mile).
"I feel like there are between 12 to 20 women who have legitimate shots to make the Olympic team and the (time) standard," Schneider said. "It's always a matter of who shows up and who has a good day, but I am in that group. I obviously really respect my opponents but … now know I can compete with them."
Continue reading at: www.pressherald.com