San Romani went from unknown to Legend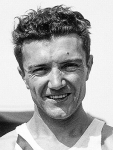 April 14, 2021
Two-time NCAA champion set 1500m collegiate & meet record and later finished 4th at the Berlin Olympic in 1936
From USTFCCCA
Archie San Romani of Emporia State was virtually unknown when he won the Mile at the 1935 NCAA Outdoor Track & Field Championships at Berkeley, California.
After his NCAA victory in 1936, he was part of a Golden Age of American Miling.
His 1935 win was by inches in the modest time of 4:19.1 as he was fastest in a mad-dash finish with runner-up North Carolina's Henry Williamson.
Even as defending champion, San Romani didn't warrant a favorite's role at the 1936 NCAA meet, the last time it was held at its birthplace, Chicago's Amos Alonzo Stagg Field.
Most figured that Don Lash of Indiana would win, just as he had at the Big Ten meet in 4:10.8 to become the third fastest collegiate Miler in history in edging Wisconsin's Chuck Fenske (at 4:10.9 the fourth-fastest). A week before the NCAA meet Lash set a world record in the 2 Mile.
With 1936 being an Olympic year, the NCAA meet held metric distances in the Olympic events, so the 1500 meters was held instead of the Mile. San Romani turned the race into a romp, clocking 3:53.0 as Fenske (3:56.7) and Lash (3:57.8) finished well behind. San Romani's time was the fastest ever recorded by a collegian, breaking the 3:53.1 run by fellow Kansan Glenn Cunningham in 1932.
Three weeks later, San Romani dueled Cunningham (then the Mile world record holder) in the U.S. Olympic Trials as both ran 3:49.9, Cunningham winning as both finished ahead of fourth place Bill Bonthron (the 1500 world record holder). At the Berlin Olympics, San Romani was fourth while Cunningham earned the silver medal.
The name of Archie San Romani came to prominence again some 30 years later, as son Archie Jr. set a high school national record in the Mile (also a school record at East High School in Wichita, Kansas, that would later be broken by Jim Ryun).
Archie Jr. went on to be coached by Bill Bowerman at Oregon and nearly matched dad's NCAA title, finishing second in the 1964 NCAA 1500 behind Morgan Groth of Oregon State. The combination of 1st and 2nd by the two Archies is still the best by a father and son in the NCAA 1500 / Mile.