Ryun's Record Still Stands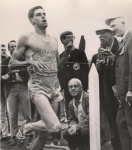 April 17, 2009
By Tom Keegan, Kansas University Sports
Comedian Will Ferrell, over-actor Paul Giamatti and tattoo model Pamela Anderson weren't yet famous when the Kansas Relays Mile record that still stands was set by Jim Ryun. In fact, they all were in their mothers' wombs.
With the help of the Kansas Turnpike Authority, Ryun ran a Mile in 3:54.7 at the 1967 Kansas Relays.
At the age of 61, Ryun will serve as official starter at Saturday's Glenn Cunningham Mile. He is scheduled to pull the trigger for the featured event of the meet at 12:55pm.
Continue reading at: kusports.com