Ryun still winning in long run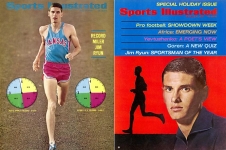 March 31, 2014
Teen phenom, Mile legend and Olympic silver medalist: "While I was running, I had a hard time believing this was actually happening to me."
By Joe Tuscano, Observer-Reporter
Maybe Jim Ryun had the most inauspicious start of any major sports figure in American history.
The church baseball team didn't want him, the junior basketball team didn't think much of his talents and cut him and the junior high track and field team thought his future might with something like the debate team, if one existed at East High School in Wichita, Kan.
"I ran because I couldn't do anything else," Ryun said in a self-deprecating style that makes him easily likable.
"I remember going to bed at night and asking God, 'What do you want me to do with my life?'"
The answer was a runner.
The 66-year-old Ryun stood in front of a packed crowd Saturday morning at the DoubleTree by Hilton in the Meadows Lands for the Washington County Men's Prayer Breakfast and releated these and other stories of his great career.
Continue reading at: www.observer-reporter.com