Ruth Wysocki's Jump from Redlands to 1984 LA Olympics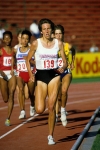 August 20, 2018
"Even though the Olympics didn't go really great for me, when I got to Europe after the Olympics, I beat everybody that beat me in the Olympics, including (Dorio)."
By Obrey Brown, Redlands Connection
Clay Brooks raved about Ruth Kleinsasser.
So did Ted Runner.
Brooks, who spent years as the University of Redlands track & field coach, was a true professor of his sport.
Runner, whose presence on that campus as an athlete, coach and, ultimately, director of athletics, was fond of track. He'd competed. For years, he coached. It almost seemed like he kept a closer eye on that sport than he did anything else.
When Kleinsasser (now Ruth Wysocki) stepped onto the track at the Los Angeles Coliseum nine years after spending her freshman season at Redlands, the two men – Brooks and Runner – watched with great interest.
The Alhambra-born Kleinsasser, who ran at Azusa High School, was a prized performer at Redlands for one season.
What made Kleinsasser special was her true dedication to the sport. As a track star, she's a lifer.
It started in age-group races in the late 1960s, starting an eventual period of about 30 years, until she became a Masters (40 & older) runner in 1997.
As an Azusa High senior in 1973, she ran a 2:16 to win the CIF Southern Section 880-yard championship. She also sped around the track to win the 440 (57.3). That's as tough of a double is in any championship meet.
Since there was no State meet held for girls that year – one would start in 1975, Kleinsasser never had a chance to prove her domination.
By the 1975 season, Kleinsasser was running at Redlands, primarily because internationally-renowned Bulldog coach Vince Reel had come out of retirement. Reel, in fact, met Kleinsasser halfway. He trained her in Claremont.
Continue reading at: redlandsconnection