Running is just a dance for Shannon Rowbury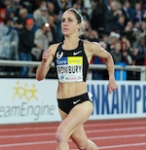 January 30, 2015
U.S. Olympian likely to challenge North Carolina state Mile record at first stop on Bring Back the Mile Grand Prix Tour 2015
By Eddie Wooten, News & Record
If two-time Olympian Shannon Rowbury makes the 2016 U.S. track & field team headed for Rio de Janeiro, then her performances last year likely will have been key steps toward that achievement.
Only one other American women's athlete, Jenny Simpson, has bettered 4:00 at 1500 meters, 8:30 for 3000 meters and 15:00 for 5000 meters. Rowbury, a holder of Bachelor of Arts and Master's degrees from Duke, pulled off all three in 2014.
But Rowbury, who will compete in the Camel City Elite Mellow Mile on Saturday at JDL Fast Track in Winston-Salem, credits some of her success with steps from an atypical childhood background for a high-level athlete:
Rowbury is a former champion Irish step dancer.
Continue reading at: www.news-record.com