Roger Bannister showed us how to combine sport and everyday living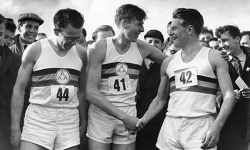 May 05, 2014
What's astonishing about Bannister's 4 minute Mile in 1954 is that he was an amateur. He even worked on the day of the race
By John Bryant, The Guardian
Things were very different 60 years ago when Roger Bannister became an icon to Britain and the empire by becoming the first to break the 4 minute Mile. For decades, people had speculated about whether this barrier could be conquered – and some suggested that you might die in the attempt.
On May 6, 1954, the match between Oxford University and the Amateur Athletic Association had attracted schoolboys in their caps and blazers, along with students, scarfed and duffel-coated against the wind. Sixpence bought you a programme (entry was free) for a match that began in the rain at 5:00pm.
All the athletes were amateurs – and proud of it. Bannister, a medical student at St. Mary's hospital, London, worked as usual the morning of the race. He took his running spikes with him to the hospital and used the laboratory grindstone to ensure each spike was needle sharp. He caught the train to Oxford for his attempt on the record and holed up with a friend for a simple ham lunch. Then Bannister walked to the track.
Continue reading at: www.theguardian.com