Remembering a special world record night at Belfield, 35 years on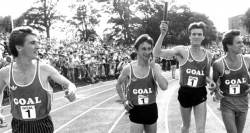 August 17, 2020
Four of Ireland's greats joined forces to shatter 4 x 1 Mile relay record and raise money for Ethiopia that magic August evening
By Ian O'Riordan, The Irish Times
The idea was to stage some sort of world record attempt on the grass track and raise a few quid towards the famine in Ethiopia. Truth is John O'Shea had no idea what it would become as he wandered into Trinity College 35 years ago this summer, except that he had to make it happen, and happen fast.
Here's the scene of his light bulb moment: a small group of runners are tearing around the neatly cut green and white-lined grass track, the late Noel Carroll among them, a healthy crowd of spectators admiring their swift movements while finishing off their lunch in the sweet summer sun.
Might there be an idea in this?
O'Shea was already deeply compelled and utterly spurred – not long back from a trip to Ethiopia that spring of 1985, where the famine which made global headlines the previous Christmas was still ravaging among some six million people, the scenes of which had just further pressed Bob Geldof into putting on a benefit concert at Wembley Stadium called Live Aid.
By now the Ethiopian famine was also the central mission of O'Shea's own Third World relief agency, set up in 1977 after first visiting the impoverished city of Calcutta and promptly returning with a £10,000 cash donation: he named it Goal, giving it a sporting edge in part because of his job as a sports reporter with the Evening Press, knowing full well too how sport can impact on charity, and sometimes vice versa.
"Walking into Trinity that day, already well familiar with Noel Carroll and the lads running around College Park, my only objective was to raise money, as quickly as possible, without being exactly sure how to go about it," says O'Shea, revisiting his idea 35 years on with a still lasting sense of urgency: whatever the idea, it had to happen fast.
"The famine in Ethiopia had a profound impact on me, having been one of the first western journalists to visit, seeing for myself the bones of six million people starving simultaneously. I was desperate, I was determined, and seeing the lads running around, and the potential to get a crowd in to watch, I got the idea of putting on some sort of running event there, bringing in some big names, going around with a bucket, collecting money that way."
Los Angeles Olympics
O'Shea already had his cast in mind: Eamonn Coghlan, the then world indoor Mile record holder, with his 3:49.78, set in 1983; Ray Flynn, still the Irish Mile record holder with his 3:49.77, set in 1982; Marcus O'Sullivan, the 23-year-old from Cork who just had run a 3:52.64 Mile at the Cork City Sports that July; and Frank O'Mara from Limerick, also fast rising up the Mile ranks and would run 3:51.06 a year later. Flynn, O'Sullivan and O'Mara had all run in the Los Angeles Olympics the year before, which Coghlan, the reigning 5000m world champion from 1983, had missed through injury.
"I certainly wasn't unaware of the fact, having a great interest in athletics and the Mile, that we had four of the very best Milers in the world. The fastest four we ever had. So my first idea was for the four of them to break some sort of Mile record on the grass. Even if the sport had moved on from grass tracks, I thought that might work, would be something different."
With that O'Shea ran the idea past Carroll, the two-time Olympian over 800m and then public relations officer for Dublin Corporation: "I leaned on Noel an awful lot, a super guy, and a great friend. I'd no problem making any sort of decision, but before signing off, I'd nearly always run it by Noel. He had this amazing understanding of what's right and wrong. And I was in a game of what's right and wrong, especially in places like Africa.
"Noel thought it was an okay idea, but said he'd look at the record books. I think he wanted it to be a half-mile record attempt, he was always so obsessed with the half-mile. When we started the Goal Mile in 1982 he wanted it to be the Goal Half-Mile. Then he comes back the next day and says he has an even better idea, that we'd go for the Mile relay record, which he'd seen had recently been set by New Zealand."
It was a rarely run event, though no less engaging: four times a Mile, in immediate succession, better still if each was run under 4 minutes – which is exactly what the New Zealand quartet had averaged in 1983, when setting the world record of 15:59.57 in Auckland, anchored by their legend, Olympic chamipon and former Mile world record holder John Walker. The Mile was also still perfectly in vogue, Britain's Steve Cram lowering the world record to 3:46.32 to win the Dream Mile at the Bislett Games in Oslo that July of 1985.
"I was also knowledgeable enough to realize the record was well within the range of the four lads, that if they averaged a 3:58 Mile, they'd break it easy enough. So we forget about the grass track, and moved the idea to the running track at Belfield, setting it up as a world record attempt. Which was a nice attraction, but really my objective was different, all about getting more money in the post to Ethiopia."
Carroll sorted the use of the Belfield track, and O'Shea eyed up the evening of Saturday, August 17th, relatively late and free in the season: or so he thought. Flynn, O'Sullivan and O'Mara were all based in Europe for the summer, set to run at the Weltklasse meeting in Zurich on August 21st (where, incidentally, the American Mary Decker Slaney would lower the women's Mile world record to 4:16.71).
Continue reading at: irishtimes.com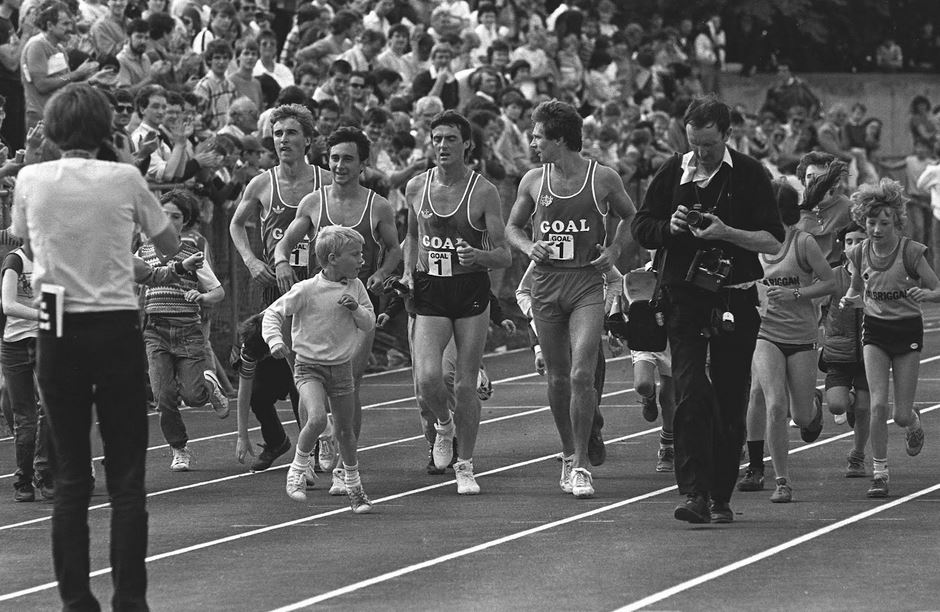 PHOTO CREDIT: Ray McManus / SPORTSFILE