Q&A with Craig Engels on Nike Oregon Project, breaking out and chasing sub-4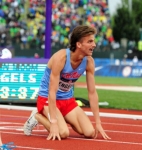 July 14, 2017
When I pulled up on Matt Centrowitz, the defending gold medalist at the Olympics, I was like 'OK, I got this.'
By Pat Price for Citius Mag
Craig Engels, the Ole Miss Miler with a mean mullet, recently signed a professional contract to join the Nike Oregon Project training group. He finished fourth in the men's 1500 meter final at the 2017 USA Outdoor Track & Field Championships before competing in the TrackTown Summer Series. His next race will possibly be an attempt to break the coveted 4-minute Mile mark for the first time in his career at the 2017 Sir Walter Miler race in Raleigh, North Carolina.
Engels recently chatted with Sir Walter Miler Race Director, Pat Price, a Citius Mag contributor, on the Summer of Miles podcast, about the upcoming race.
Pat Price: Craig, I've been badgering you for a long time about it. Going back actually to running on Pre's Trail last summer with coach Vanhoy so we're glad it's actually happening. Where are you right now? Where are we speaking to you from?
Craig Engels: I don't know if I'd call if running if we were with coach Vanhoy. I'm just kidding. I'm in Oxford, Mississippi and flying to Switzerland tomorrow.
PP: So what's going on there? I know the Oregon project is who you're running with now and they tend to go to St. Moritz to train.
CE: I usually just follow what coaches say and that's why I've had so much success in running. I actually don't really know the plan right now. I know I'm flying out to Zurich and taking the train to St. Moritz and I'm gonna be there for at least 20 days. I think I fly to Raleigh on the 31st so I'm pretty much there to train.
Continue reading at: http://citiusmag.com